About Uluru | About Ayers Rock |Where is Uluru - Ayers Rock Australia
Uluru Kata Tjuta National Park in Northern Territory Australia
Uluru, also known as Ayers Rock

Welcome to Aboriginal land
Pukulngalya yanama, Ananguku Ngurakutu (welcome greeting in Yankunytjatjara)
Pukulpa Pitjama, Ananguku Ngurakutu (welcome greeting in Pitjantjatjara)

The traditional land owners of Uluru-Kata Tjuta National Park, are direct descendants of the beings who created our lands during the Tjukurpa (Creation Time). We have always been here. We call ourselves Anangu, and would like you to use that term for us.

Uluru-Kata Tjuta National Park is a world-class visitor destination and a key part of Australia's iconic Red Centre. This living cultural landscape is the physical and metaphoric heart of Australia, and was one of the first areas to be identified as a National Landscape.

Ayres rock Uluru, also referred to as Ayers Rock, is a large sandstone rock formation in the southern part of the Northern Territory, central Australia. It lies 335 km (208 mi) south west of the nearest large town, Alice Springs; 450 km (280 mi) by road. Kata Tjuta (The Olgas) and Uluru are the two major features of the Uluru - Kata Tjuta National Park. Uluru is sacred to the Pitjantjatjara and Yankunytjatjara, the Aboriginal people of the area.

It has many springs, waterholes, rock caves and ancient paintings. Uluru is listed as a World Heritage Site. The local Pitjantjatjara people call the landmark Uluru . This word has no particular meaning in their dialect, also known as Pitjantjatjara, but it is also used as a local family name by the senior Traditional Owners of Uluru.

On 19 July 1873, the surveyor William Gosse visited Uluru and named it Ayers Rock in honour of the then-Chief Secretary of South Australia, Sir Henry Ayers. Since then, both names have been used, although Ayers Rock was the most common name used by outsiders until recently. In 1993, a dual naming policy was adopted that allowed official names that consist of both the traditional Aboriginal name and the English name.

On 15 December 1993, it was renamed "Ayers Rock/Uluru" and became the first officially dual-named feature in the Northern Territory. The order of the dual names was officially reversed to "Uluru/Ayers Rock" on 6 November 2002 following a request from the Regional Tourism Association in Alice Springs.

Uluru is one of Australia's most recognisable natural icons. The world-renowned sandstone formation stands 348 m (1,142 ft) high (863 m/2,831 ft above sea level) with most of its bulk below the ground, and measures 9.4 km (5.8 mi) in circumference.

Uluru is notable for appearing to change colour as the different light strikes it at different times of the day and year, with sunset a particularly remarkable sight when it briefly glows red. Although rainfall is uncommon in this semiarid area, during wet periods the rock acquires a silvery-grey colour, with streaks of black algae forming on the areas that serve as channels for water flow. Uluru is an inselberg, literally "island mountain", an isolated remnant left after the slow erosion of an original mountain range. Uluru is also often referred to as a monolith, although this is a somewhat ambiguous term because of its multiple meanings, and thus a word generally avoided by geologists.

The strata at Uluru are nearly vertical, dipping to the south west at 85°, and have an exposed thickness of at least 2,400 m (7,900 ft). The strata dip below the surrounding plain and no doubt extend well beyond Uluru in the subsurface, but the extent is not known.

Cultural Centre
When you visit Uluru - Kata Tjuta National Park, you should ensure that you explore the Cultural Centre first. You will enjoy exploring the Park much more if you understand Anangu culture and this very special cultural and natural environment.

At the Cultural Centre you can get an introduction to Tjukurpa (law, knowledge, religion, philosophy), Anangu art, Anangu way of life (traditional and current), history, languages, wildlife and joint management of the Park. The displays feature photo collages, oral history sound panels, Pitjantjatjara language learning interactives, soundscapes, videos and artefacts. There are bush tucker sessions, plants walks and cultural sessions for visitors to experience. Cultural Centre notes are provided in Pitjantjatjara, English, Italian, Japanese, German and French. A touch wall for visually impaired people ensures that the messages are accessible to everyone. Daily schedules vary, so ask at the Cultural Centre Information Desk.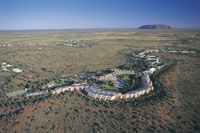 Ayers Rock Resort
Regardless of where you stay while you're at Voyages Ayers Rock Resort, from the sanctuary of one of the five hotels, or the intimacy of Voyages Ayers Rock Resort Campground, you can experience the beauty of the living cultural landscape of Uluru-Kata Tjuta National Park, in Australia's Northern Territory.
With over 65 tours, local activities and attractions within the Resort and the Uluru-Kata Tjuta National Park, your days will be action-packed. Ride a camel across the desert dunes. Hop on a Harley, or embark on a base walk of Uluru (Ayers Rock).
Getting There - Ayers Rock Resort - Ayers Rock Airport
Fly direct to the heart of Australia ... You can fly daily from Perth, Sydney, Cairns and Alice Springs direct to Ayers Rock Airport. Direct flights operate twice a week from Melbourne. Flights from Darwin and Brisbane connect from Alice Springs through to Ayers Rock Airport. Ayers Rock Airport is conveniently located just six kilometres from Voyages Ayers Rock Resort (10 minutes' travel). The airport services both fixed and rotary winged aircraft and receives up to on average 350,000 - 400,000 commercial passengers per year. It's also a popular stopping off point for private pilots and passengers travelling in their own aircraft. From Ayers Rock Airport, you can enjoy scenic desert flights over Uluru and Kata Tjuta. You will find hire car companies, tour desks, a Qantas desk, Ayers Rock Design retail outlet, and an information desk at the airport.
Airport Transfers - Complimentary return coach transfers from Ayers Rock Airport to Voyages Ayers Rock Resort meet every scheduled flight. The return transfer to Ayers Rock Resort Airport collects you from your hotel approximately 2 hours prior to flight departure please check with reception for exact time. http://www.ayersrockresort.com.au/
Kata Tjuta (The Olgas)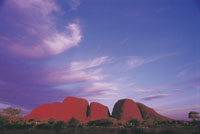 Both Uluru and Kata Tjuta have great cultural significance for the Anangu Traditional landowners, who lead walking tours to inform visitors about the local flora and fauna, bush foods and the Aboriginal dreamtime stories of the area.
Kata Tjuta, also called Mount Olga or The Olgas owing to its peculiar formation, is another rock formation about 25 km (16 mi) from Uluru. Special viewing areas with road access and parking have been constructed to give tourists the best views of both sites at dawn and dusk.
The rock was originally sand, deposited as part of an extensive alluvial fan that extended out from the ancestors of the Musgrave, Mann and Petermann Ranges to the south and west, but separate from a nearby fan that deposited the sand, pebbles and cobbles that now make up Kata Tjuta.
The similar mineral composition of the Mutitjulu Arkose and the granite ranges to the south is now explained.
Kings Canyon in Watarrka National Park

Voyages Kings Canyon Resort is located in a loop off the main highway running between Ayers Rock and Alice Springs. The sensitively designed resort is just seven kilometres from Watarrka National Park, the home of the magical sandstone formation of Kings Canyon.

Due to Voyages commitment to best environmental practice, the resort has been built to blend harmoniously with the surrounds. Kings Canyon Resort offers a wide range of accommodation from the campground that enjoys the outdoor stillness of the Red Centre to deluxe spa rooms - offering understated comfort rather unexpected in such a remote location.

It is the perfect oasis from which to explore the wonders of Kings Canyon including the amazing rock formation called the Lost City and the Garden of Eden an oasis of an entirely different kind at the foot of the Canyon. The flora of Kings Canyon offers a clear indication that the climate of this whole area was once vastly different.

Getting There

There is no better way to explore Central Australia then at your own pace. As Kings Canyon lies just 3 hours from Uluru (Ayers Rock) and approx. 4 hours from Alice Springs, self drive is a popular option. The drive passes some incredible sites including Standley Chasm, Ellery Creek and Ormiston Gorge.

The Mereenie Loop Road brings you right to the doorstep of the Resort. Please note: the Mareenie Loop Road is an unsealed road for 197km of 337km, a 4WD is required. Alternatively travel via the Stuart Highway, approx. distance from Alice Springs to Kings Canyon 461km and 4.5 hours travelling time. http://www.kingscanyonresort.com.au/
Flora and Fauna in Uluru Kata Juta National ParkAnangu acknowledge that a decrease in the number has implications for the condition and health of the landscape. Moves are supported for the reintroduction of locally extinct animals such as Malleefowl, Common Brushtail Possum, Rufous Hare-wallaby or Mala, Bilby, Burrowing Bettong and the Black-flanked Rock-wallaby. The Mulgara, the only mammal listed as vulnerable, is mostly restricted to the transitional sand plain area, a narrow band of country that stretches from the vicinity of Uluru to the Northern boundary of the park and into Ayers Rock Resort. This area also contains the marsupial mole, Woma Python and Great Desert Skink. The bat population of the park comprises at least seven species that depend on day roosting sites within caves and crevices of Uluru and Kata Tjuta.

Most of the bats forage for aerial prey within 100 m (330 ft) or so from the rock face. The park has a very rich reptile fauna of high conservation significance with 73 species having been reliably recorded. Four species of frog are abundant at the base of Uluru and Kata Tjuta following summer rains. The Great Desert Skink is listed as vulnerable. Anangu continue to hunt and gather animal species in remote areas of the park and on angu land elsewhere. Hunting is largely confined to the Red Kangaroo, Bush Turkey, Emu and lizards such as the Sand Goanna and Perentie.

Of the 27 mammal species found in the park, six are introduced: the House Mouse, camel, fox, cat, dog and rabbit. These species are distributed throughout the park but their densities are greatest in the rich water run-off areas of Uluru and Kata Tjuta. Uluru - Kata Tjuta National Park flora represents a large portion of plants found in Central Australia. A number of these species are considered rare and restricted in the park or the immediate region. There are many rare and endemic plants at Uluru and Kata Tjuta. The growth and reproduction of plant communities rely on irregular rainfall. Some plants are able to survive fire and some are dependent on it to reproduce. Plants are an important part of Tjukurpa, and there are ceremonies for each of the major plant foods. Many plants are associated with ancestral beings.

Trees such as the Mulga and Centralian Bloodwood are used to make tools such as spearheads, boomerangs and bowls. The red sap of the bloodwood is used as a disinfectant and an inhalant for coughs and colds. There are several rare and endangered species in the park. Most of them, like Adder's Tongue ferns, are restricted to the moist areas at the base of the formation, which are areas of high visitor use and subject to erosion.

Since the first Europeans arrived, 34 exotic plant species have been recorded in the park, representing about 6.4% of the total park flora. Some, such as perennial buffel grass (Cenchrus ciliaris), were introduced to rehabilitate areas damaged by erosion. It is the most threatening weed in the park and has spread to invade water- and nutrient-rich drainage lines. A few others, such as burrgrass, were brought in accidentally, carried on cars and people.
Photographs Courtesy Of:NTTC - Northern Territory Tourism Commission.
Maps Courtesy Of:NTTC - Northern Territory Tourism Commission.
Photographs Courtesy Of:PJ B & M Hutchinson Private Collections
Information courtesy of Parks and Wildlife Service NT for the promotion of tourism for the Larapinta Trail.

Photographs Courtesy of NTTC - Northern Territory Tourism Commission
Information courtesy of Parks Northern Territory
The Goholi
Our Mission Statement

As one of Australia's largest licensed Travel Agents Goholi is dedicated to campervan and motorhome hire and rentals. We will source the different options for you. We will look at all the extras and find the best vehicle package for you or even a multiple option for you to choose from. With our head Office in the heartland of the Top End of Darwin we can advise you of the current situations of Uluru Kata Tjuta National Park - Ayers Rock, Watarrka National Park, West MacDonnell Ranges, East MacDonnell Ranges, Kakadu National Park, Uluru (Ayers Rock), Gibb River Road Western Australia and the - Erldunda - Kulgera - Oodnadatta Track - Coober Pedy (Opal field) - Woomera - Port Augusta areas.
We have pickup locations in Sydney in New South Wales, Brisbane and Cairns in Queensland, Darwin and Alice Springs in Northern Territory, Ayers Rock (Uluru) for 2WD cars, Perth and Broome in Western Australia, Adelaide in South Australia, Melbourne in Victoria and Hobart in Tasmania Australia's Island State. As one of Australia's largest campervan, recreational vehicle, motorhome and 4WD rental brokers, we search for availability and the best deals from campervan, motorhome, winnebago, RV Recreational Vehicles, Mobile Homes and 4WD reputable companies throughout Australia for the vehicle of your choice with so that your Australian vacation will be the best you've ever had. At Goholi we pride ourselves on our knowledge and contacts in the car rental and travel industry.
We are independent qualified licensed rental brokers with our reliable source of vehicles from the most reputable of the Australia's major companies such as Backpacker now known as Mighty, Britz, Apollo, Maui, Cheapa Campa and smaller local companies.

One of the largest range of Australia's 4 Wheel Drive Off Road 4WD cars, 4WD utes, 4WD campers, 4WD campervans, 4WD Motorhomes and 4WD Recreational vehicles for around Australia. Travel Sydney, Darwin, Kakadu, Broome, Gibb River Road Western Australia, Cairns, Cape Tribulation, Brisbane, Adelaide, Melbourne and much more across or around Australia.
wwww.kakadunationalparktours.com, www.uluruadventuretours.com, www.kakaduadventuretours.com, www.australia4tours.com, www.ayersrockadventuretours.com, www.kakadusafaris.com, www.ulurusafaris.com